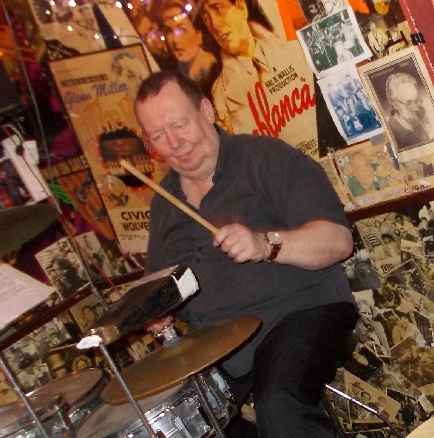 Lionel Sallis
Lionel played his first professional show 'Applause' at the age of 14 at the Grand Theatre Wolverhampton. After leaving school he joined the Derek Butterworth Orchestra for two summer seasons with Pantomimes in between, and gained his first cruise ship experience on the 'Americanis' with the resident band.
For a period of some years, Lionel was resident drummer at Caesar's Palace (Luton!) backing Tina Turner, David Essex, The Four Tops, Tommy Cooper, Bruce Forsyth, Lynda Carter, Gene Pitney and Roy Orbison and also recorded the backing trackfor "Making Your Mind Up" with Bucks Fizz. On the closing of Caesar's Palace Lionel formed a five piece band "Pendulum" to work at Ladbrokes Country Clubs and a spell at the Meridian Hotel in Sharjah U.A.E.
Joining the Mick Urry Showband, Lionel did two world cruises on the prestigous Q.E.2 backing artists such as Burt Bacharach, George Burns, Rita Mereno, Neil Sedaka and Vic Damone.The band also recorded three successful albums, one featuring Trumpeter Kenny Baker, and were featured on B.B.C. Radio 2.
Lionel was then invited to join Joe Loss OBE and his Orchestra. For the next six years Lionel enjoyed frequent appearances at Buckingham Palace, with many T.V. and Radio broadcasts including two Royal Command performances at the London Palladium. He also recorded at the world famous Abbey Road Studios, and continued World Cruises on board the Q.E.2.
After the sad passing of Joe Loss, Lionel worked as bandleader at Clarach Bay Holiday Village, involving backing cabarets and being M.C. for the evening. When the Joe Loss band was reformed, Lionel was requested to rejoin, during which time they recorded a 'Silver Jubilee' album and also worked with Elvis Costello. Lionel then worked for Airtours Cruising, P&O and Holland-America as Musical Director/Drummer onboard various cruise liners.
Since finishing life 'at sea' he has spent much time playing for theatre, including 'The Wiz', 'Summer Holiday', Mack & Mabel' and Oliver with plenty of pantos and Variety shows. A highlight of his theatre work was a tour of a new musical 'Houdini', where drums and percussion parts were written specifically for him.
More recently Lionel has been working with concerts and brass bands, and doing more theatres including productions of 'Disco Inferno', 'Return To The Forbidden Planet' and 'The Wedding Singer'. He also enjoys keeping up his jazz 'chops' with bands around the country, and is hoping to start a 'Dave Brubeck' tribute group!