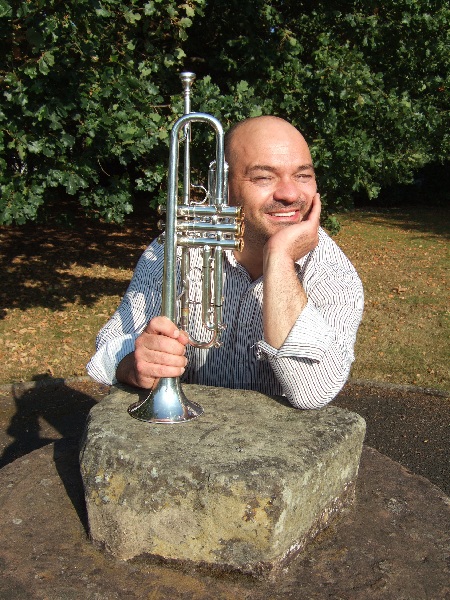 Adrian Gibson
Hailing from North Yorkshire, Adrian had a musical aptitude from a very young age, starting playing recorder just aged 4. He became hooked on cornet at primary school under the expert tutoring of one Frank Waddington.
Adrian attended the prestigious Sedbergh School where he gained a music scholarship and became heavily involved in the musical life. Adrian's love for jazz was nurtured by his trumpet teachers Ian Hamilton and Frank Waddington, and after forming his first band whilst at college, he gained a place at the prestigious Leeds College of Music Jazz course, taught by Fred Kelly and Bob Taylor. After gaining valuable experience with big-bands, he won the Fred and Ethel Tomlinson Memorial Brass Prize in his final year at college, also touring (briefly) with The Boo Radleys. Adrian also holds a Music P.G.C.E. from U.C.E in Birmingham.
His first teaching post was in Cumbria, whilst playing with Nick Telfer in the Rhythm Bayou Kings, (once playing for Tom Cruise and Nicole Kidman!). He was also involved with Voice of the North Jazz Orchestra, amongst others. Via a job playing at Alton Towers, he became a musician for Thompson and Saga cruises working alongside Elliot Finkel, Elaine Delmar, Petula Clarke and Vince Hill to name but a few.
Back on land Adrian again became involved in Education and worked for Dudley Performing Arts as a specific jazz educator and provided workshops and jazz festivals bringing in the likes of Bobby Shew , Andy Sheppard, Mark Nightingale, Steve Lodder and Juilan Siegel to work with a major big band event at Dudley Castle. He has also found time to play in the Brecon Jazz festival with Trevor Davies, Time Enough, Birmingham Jazz festival with Phil Sayer, at Symphony Hall with Ronnie Corbett and John Savident and record with King Pleasure and the Biscuit Boys on their album ' Hey Puerto Rico'!
Now a freelance musician, he plays with The Glenn Miller Orchestra UK, Shlomo (world class beatboxer), Detroit Soul and various high class function bands, cutting his jazz 'chops' once more with the JazzClass tutors band, the 'Chris Corcoran Collective'!