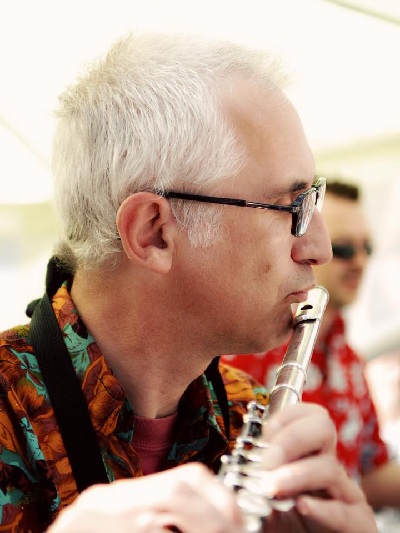 Steve Raybould
While studying at Birmingham Polytechnic (now Birmingham City University) Steve became a founder member of the Birmingham Musicians' Co-operative, and represented the Co-operative at improvisors' conclaves at London, Bristol and Leeds.
For three consecutive years in the Eighties Steve attended the famous Glamorgan Jazz Summer School and studied alongside Chris (Corcoran) with some of the biggest names in British jazz such as Pete King, John Taylor and Geoff Simkins.
While working in several of Chris's small jazz groups such as Korky and the Kats, Steve became one of the regular performers at Birmingham's leading live jazz venue, The Cannonball (in Adderley Street, Digbeth). It was at this time that Steve became a founder member of Birmingham's first salsa orchestra, Como No under the musical direction of Chris Corcoran. Como No was fortunate enough to work closely with members of the Cuban supergroup, Irakere, when Steve received tuition from Cuban flute phenomenon, Orlando 'Maraca' Valle.
At this time, Steve also joined one of Chris's other major contributions to the Birmingham music scene, the award winning and innovative Svengali jazz orchestra; working in several projects with leading jazz artists such as Andy Sheppard and Guy Barker.
Steve went on to form Birmingham based latin groups Mambo Taxi and later Alma Latina - the latter still being available for bookings!
In between all of this, Steve still found time to be a long time member of the Midlands soul band The Commandments and, more currently, blues band The Big Blues Tribe. And in 2006 attended an extended summer school in Cuba where Steve studied the charanga flute style with Los Estrellas Cubanas and later with Britain's leading latin flute scholar and performer Sue Miller in Leeds.
Steve plays tenor, baritone and alto saxophones and flute and holds a Certificate in Higher Education.