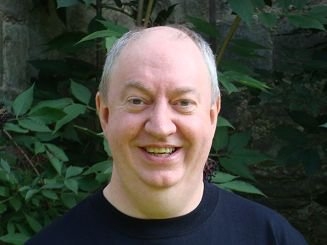 Chris Corcoran
Chris was brought up in rural Lincolnshire, in a musical family, and after playing the recorder at school, was first taught piano (reluctantly) by his sister. After being forced/bullied into having 'proper' lessons he really began to enjoy music a lot more. He went to the local historic Caistor Grammar School and started clarinet, quickly joining the county Youth Orchestra with tours to Europe, being also heavily involved in school concerts, playing the 'Warsaw Concerto' with the school orchestra! Chris was already accompanist for a pantomime group, taking over as musical director when only 16.
Chris studied Physics and Music at Reading University, and, as usual, he was busy outside his studies; in jazz bands (Berkshire Youth Jazz), chamber music, and theatre productions (including the Edinburgh 'fringe'). He won the Composition Prize in his final year, and his pieces have been performed in the annual Reading Festival. After graduating, he worked in research at Aston, where he came into contact with jazz once more, eventually attending jazz summer schools where he was taught by some of the top jazz players in Britain, such as John Taylor, Gordon Beck, Django Bates and Ian Carr.
Apart from playing with club and function bands, Chris became a mainstay of the jazz 'jam' sessions at the Cannonball pub (Digbeth), developing his arranging and composition skills with bands such as 'Kibosh', 'Detour Ahead' and 'Plan 9 (From Outer Space)'. In 1988 he was asked to arrange and direct a new 'big band' titled 'Svengali' as a tribute to the jazz arranger Gil Evans who had died that year. The band won many prizes at the Musicians' Union Big Band Contest through the 1990's, and has performed many times at the Birmingham International Jazz Festival.
Chris also has a considerable reputation as a theatre M.D. with award winning productions for Bournville M.T.C; also directing many other societies' productions across the Midlands, as well as being part of many a pit orchestra!
His involvement with Latin American music began with the formation of 'Como-No?' a 12 piece salsa band, which toured successfully the length & breadth of the UK, including appearances on BBC, ITV and a live Radio 3 New Years Eve concert from Ronnie Scotts (Birmingham). The band played in the 1996 Grahamstown Festival (South Africa). Chris also got a chance to study with the Cuban maestro Chucho Valdez, one of the world's greatest latin-jazz pianists.
In jazz, Chris has worked as a solo pianist, with small ensembles featuring some of the Midlands' top players, and performed some memorable concerts with international jazz soloists (Arturo Sandoval, Guy Barker, Andy Sheppard, Orlando 'Maraca' Valle, Miguel 'Anga' Diaz).
The start-up of 'JazzClass' is a new venture, and has prompted him to further work in various jazz combos, including a projected resurrection of 'Svengali' for 2012, which is the 100th anniversary of Gil Evans' birth.