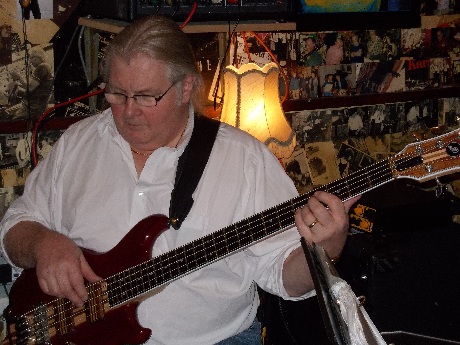 Derrick Brown
Derrick started playing guitar as a youth having private tuition and was one of the founding members of the Midlands Youth Jazz Orchestra. Later he took up bass guitar as a second instrument which quickly took over; to such an extent that after about a year he very rarely worked on the guitar again, such was the demand for his bass playing! His first employment as a bass player was touring with a show promoting holidays on Jersey, Derrick has also worked on the island of Jersey for a short season.
A highlight of his touring work was with the singer Madeline Bell (ex Blue Mink), travelling thoughout the U.K, Greece and occasionally elsewhere in Europe. For the last 25 years Derrick has been a mainstay of Garry Allcock's Jazz 'All Stars' in everything from trios up to the full sized big band, working throughout the U.K, and enjoying many Royal functions.
Derrick has also worked on cruise ships for P&O, including the Oriana and Q.E.2. He has guested with many big-bands across the country, (including a touring 'Rat-Pack tribute show)and has undertaken various pit engagements for theatrical companies. Probably the most memorable of these was the chance to play at the Royal Albert Hall for a group uniting all the Cancer-Research charity organisations from across the U.K.
Derrick is a regular feature of the Jazz programme at local Midlands venues including the famous 'Trumpet' in Bilston, 'Rush Hour Blues' for Birmingham Jazz and countless others.